We had to have a fizzer or two
After four fun rides, we were due for a less successful ride or two.
The 2.5 hour winding drive Foxhill to Reefton was beautiful, full of dark greens sometimes almost closing in on us as we followed the Buller River on the edge of Kahurangi National Park (impressively large at over 5,000 km2).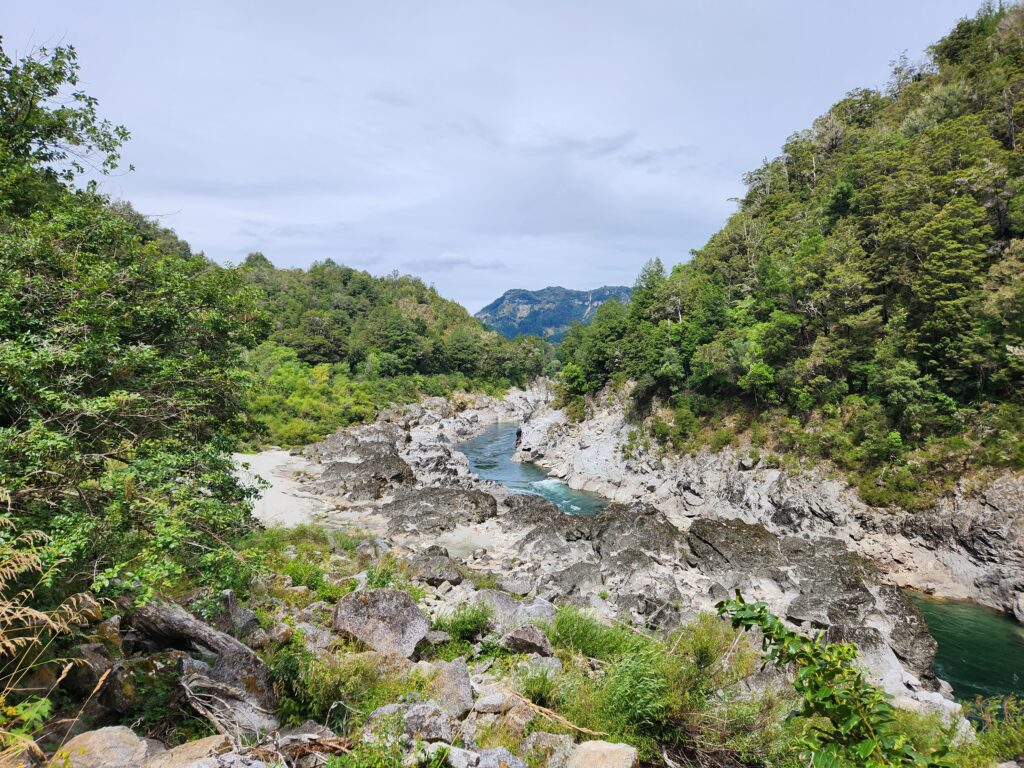 We knew the three-wheeler would meet impassable areas, and we had our first disappointment in Reefton. Internet information about cycle trails around Reefton was light – nothing about accessibility and it was challenging to find a grade 1-3 trail. After failing to get across the swing bridge (about 3 cm too narrow) while ill-advisedly trying to ride to Black Point, a friendly information centre staff member suggested Motoming up the zig-zag road to the lookout.
This track was an attractive ride, but rocky, bumpier than the cobbled Ohakune Old Coach trail. I suspect rain may have washed out parts as Matt had to carry the Motom over various tricky areas. By the third place needing a carry, Matt did a recce, and voted we abandon the trail and head to Greymouth. Ride: 5 km.
Despite a beautiful sunset in Greymouth, the next day held persistent rain. The rain radar showed we had cleverly arrived at the only spot of the South Island with rain. As my hands do not work if they get cold, we avoid riding in the rain. So we sufficed with a 6km evening ride along the stormy coast to Tip Point for Kerri to get used to a hired e-bike before our WCW trail the next day. This blew away the cobwebs, and gave us a chance to look at the infamous Greymouth bar where 44 shipwrecks have happened since the first ships in the gold rush days – incredibly only 17 lives have been lost in this time. Many ships were wrecked on the North Tip Point where cables and baskets ferried passengers and crew to shore, which must have been frightening in a storm.
6km. Total ride to date: 161 km.