Sad to farewell the West Coast – but we managed one more ride first
We couldn't leave the West Coast without the ride to Cowboy Paradise, an infamous stopping point. What superlative do I use now, when I must be running out? Matt said it's the best riding he's done so far – given our enjoyment to date, that's quite a claim.
This was a short ride as we had done quite a bit of riding and had time restrictions, plus it took a little bit to get going in the morning after I had a small unexpected hypo (3.7). So we drove to Milltown, to a very new parking area set up for biking – portaloos, a shelter, and 2 shiny new bike racks that did not fit either Matt nor Kerri's mountain bikes. Slight flaw in the plan there. However, the spectacular scenery made up for this little oversight.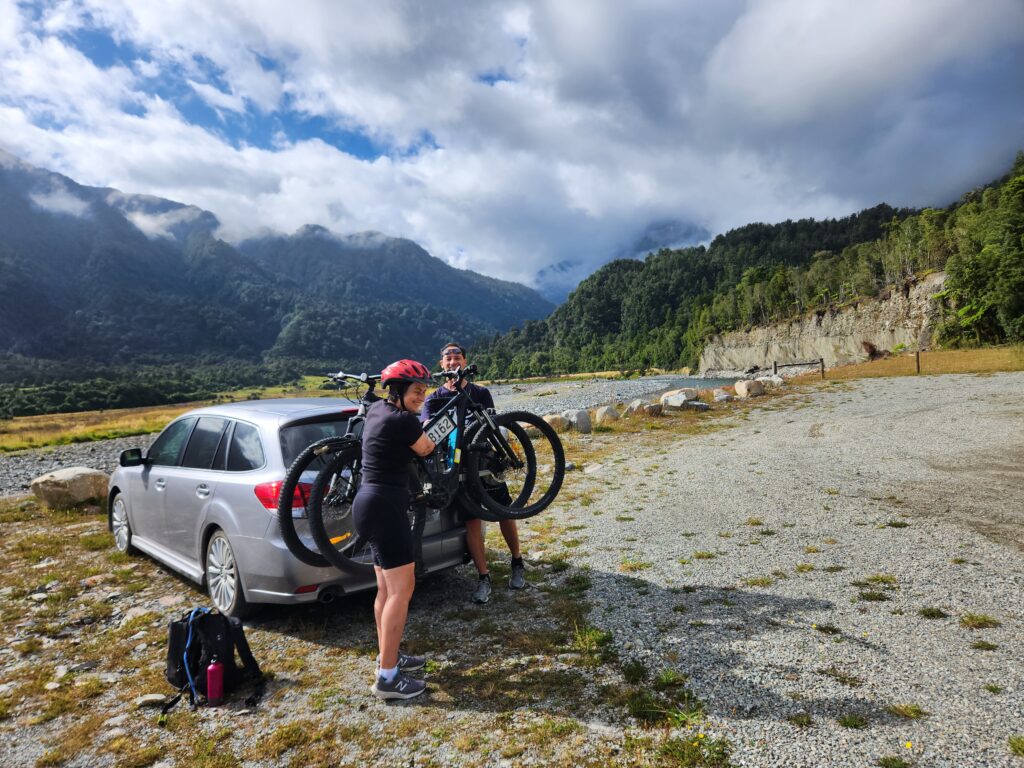 The beautiful views, lush forest and feel of a garden with many hollyhocks in pink or white added to the pleasure of the smooth track that included zig-zag climbs with hairpin corners, weaving in and out of trees, a swingbridge high above a river and a couple of fords. We reached the Kawhaka summit where we snacked and chatted to other cyclists, then turned back to enjoy the return journey including a lovely long ride down to Milltown. The bonus of an out and back is when the way is so good you really want to repeat the ride, and this 11 km segment of trail was well worth repeating
Today: 22 km, total 263 km for the trip.
We were sad to depart the beautiful West Coast, and the enjoyable company of Kerri and Robert. However, we have another great trail to do, and limited time, so we headed over Arthur's Pass for more fabulous scenery. Seeing keas wheeling around the sky and hearing their sounds on driving into Arthur's Pass village gave us great pleasure. The moment we emerged from the car with the camera they disappeared. We waited, then waited a little longer, then just another 10 minutes, and we were rewarded with a couple of keas flying around and landing nearby so we could observe them up close. Their feathers match the bush perfectly with exactly the right mix of greens, and then when they fly you see the flash of orange under their wings. Matt now is doing most of the photographs with the camera and heavy zoom lens as it is hard for me to hold up for long.
With no accommodation available in Arthur's Pass, we had booked with Smylie's accommodation at Springfield, staying in a tiny settler's cottage that long ago somehow housed a family of 8. This was a great choice with a very friendly host, Colin.